Little Guy Wrestling Information!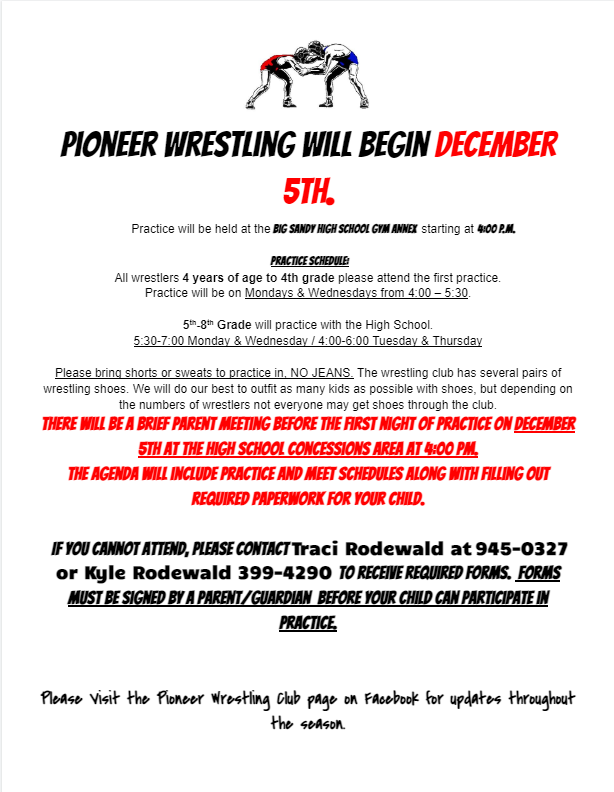 STATE CHAMPION FOOTBALL GEAR!! If you would like to place an order for State Champion Football gear, please have your order form back to the office by Wednesday December 7th @ 4pm. If ordering through Wendy (406.378.3400) at the office, please pay with check or exact cash. You may also call/text or email Ella Jurenka with your order at 406.654.4577 or
ejurenka@bigsandy.k12.mt.us
. Orders will be back before Christmas Break!!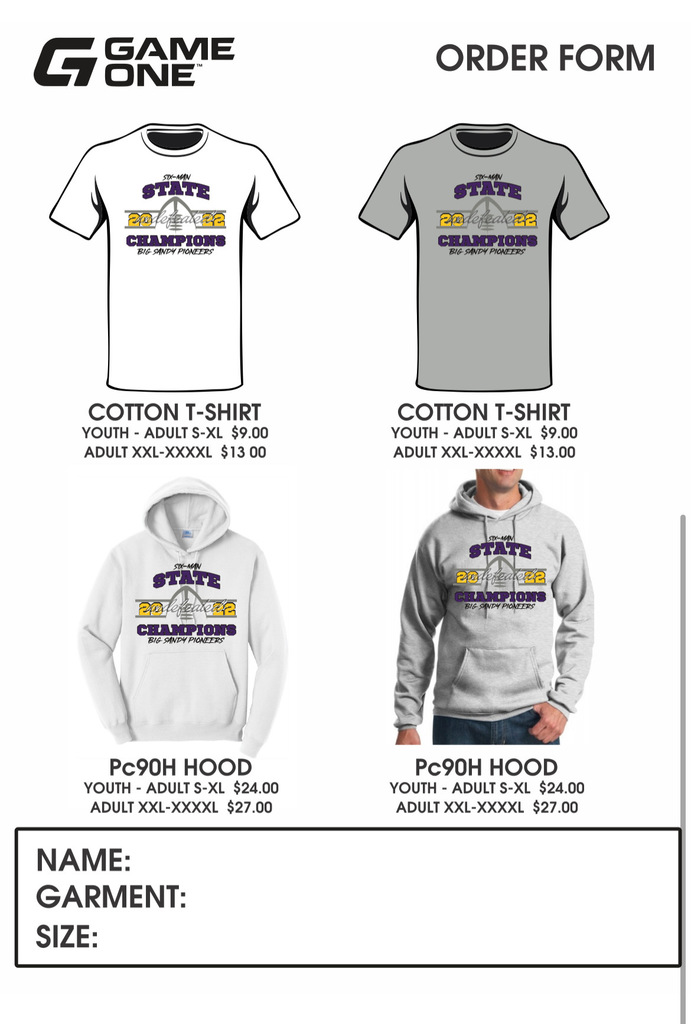 Pioneer Athletics for the week of November 28 - December 3: Wednesday: District 9C JHBB tournament begins in Gildford Fri/Sat: Wrestling @ Cascade Sat: Basketball @ Stanford vs DGSG (Girls JV @ 3, No boys JV, Varsity to follow)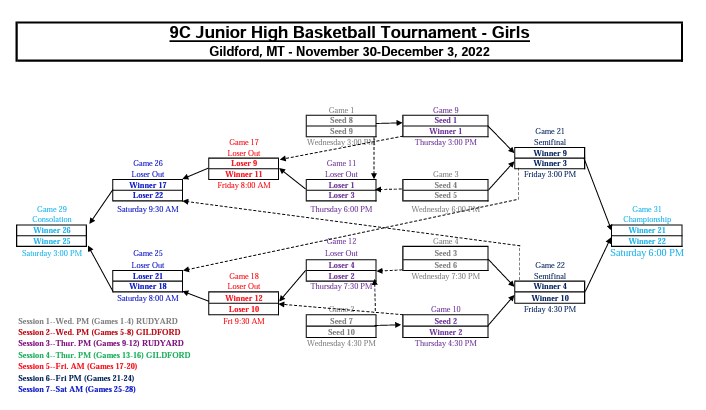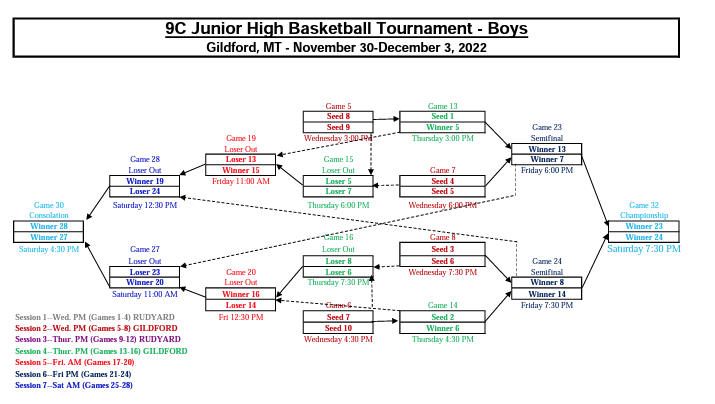 Attention Elementary Parents: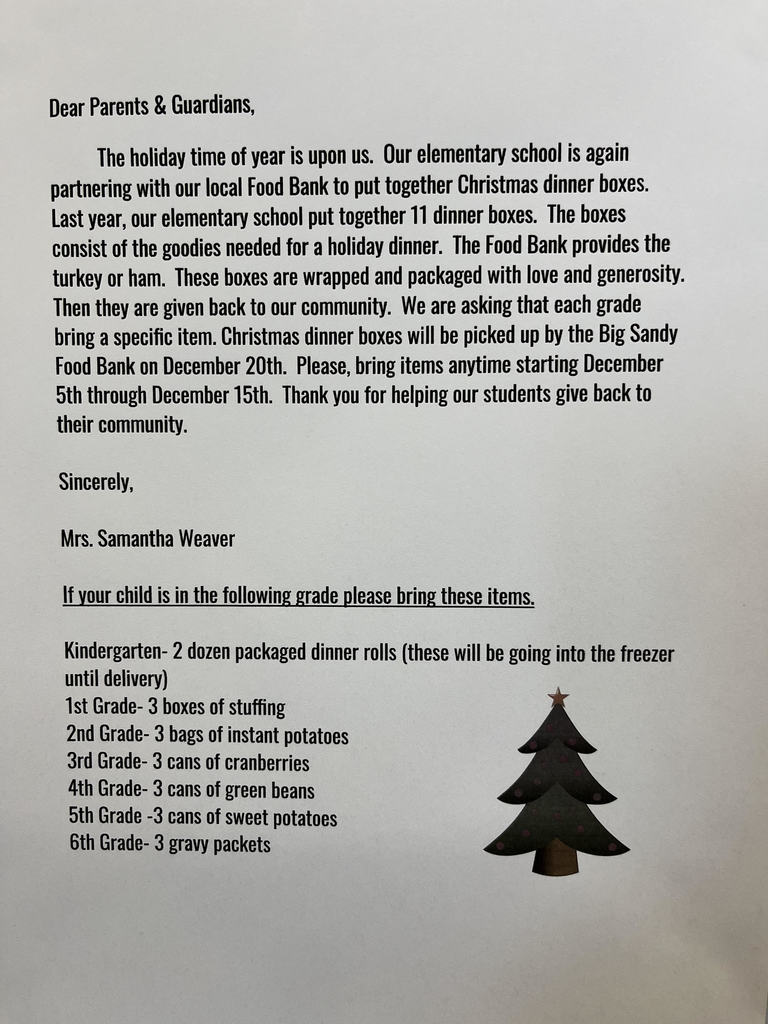 Hey Big Sandy, Let's Celebrate those State Champs! Check out the information below!

From the desk of Mrs. Andreasen: SENIORS! I need the following from you for the yearbook & senior slideshow: * 10-15 pictures from baby to senior photos *Parents' names spelled out how you'd like it to appear in the book and slideshow *Future plans *Senior quote (school appropriate) *Senior song (school appropriate, clean versions) *Senior "thank you"; no more than 1-page double spaced; this WILL BE recorded for the slideshow. DUE: Thursday, Jan. 5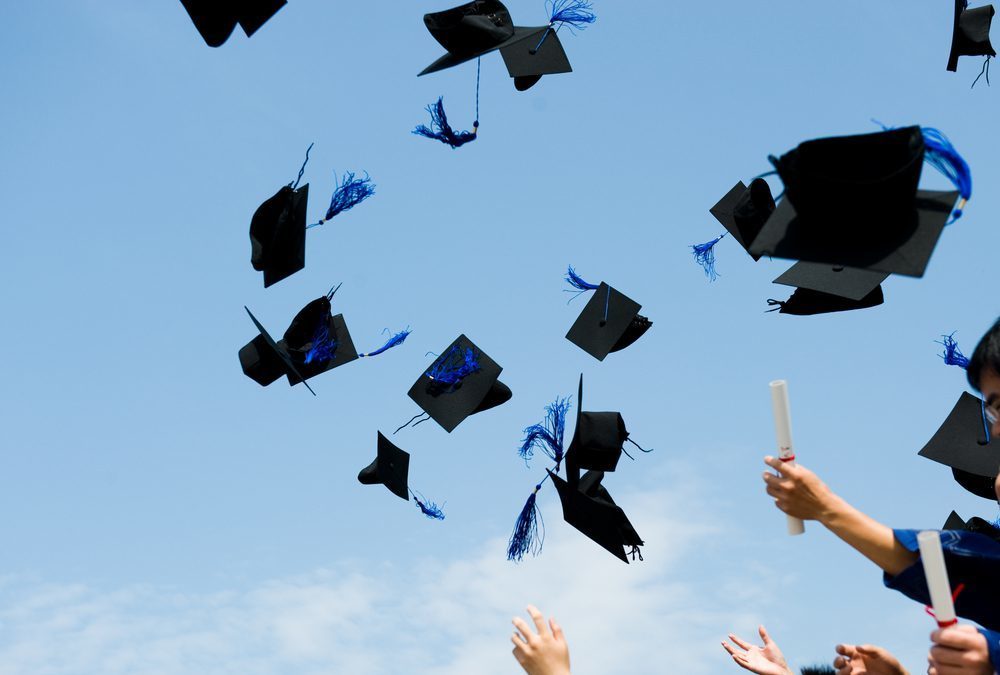 If you still need Championship Gear from Saturday, please email Lisa Stroh at
stroh2266@gmail.com
.

THURSDAY- COMMUNITY PEP RALLY Please join us at 3:15 in the Gym! Elementary Parents- Your students will be dismissed from the High School at the regular time of 3:45. If you are picking up your student please pick them up from the North Side (Wagon Side) of the school. GO PIONEERS!


Get your State Championship Football Gear! They will be on sale Saturday morning in the gym. Information regarding prices and styles will be coming soon! Here's what they look like, design on the front, rosters on the back

Pioneer Fans! Here's what's happening this week as we gear up for the Championship Game this Saturday.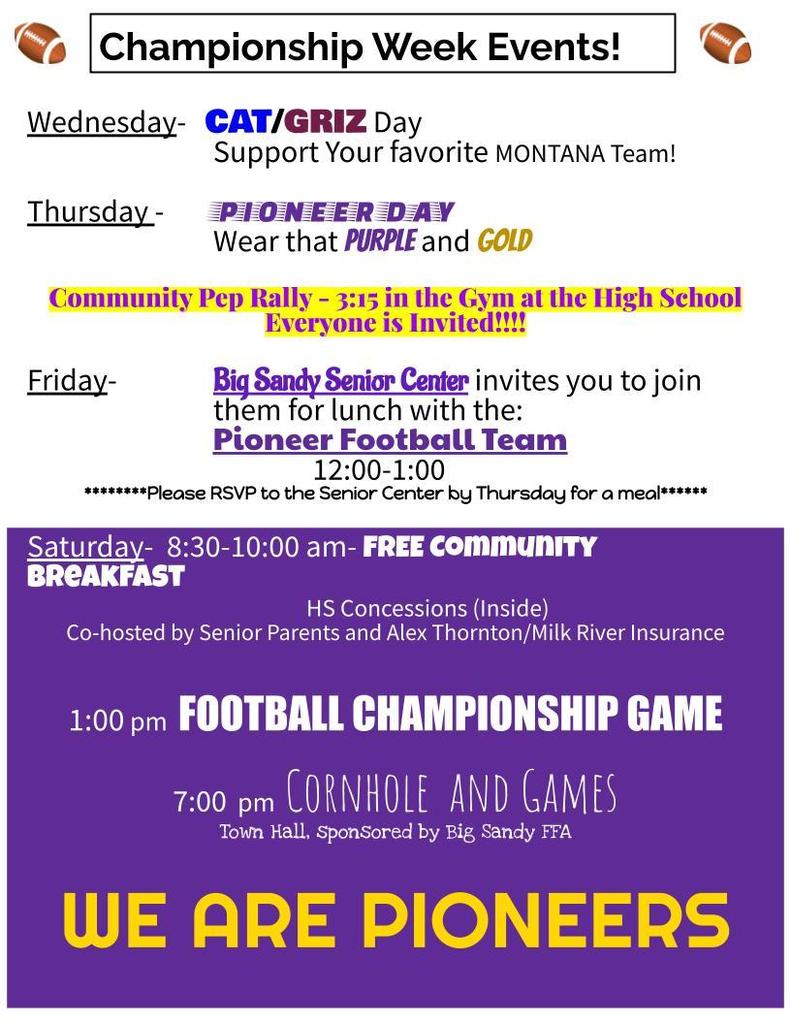 We will be inducting new members to the Big Sandy National Honor Society next Wednesday. All are welcome to join us!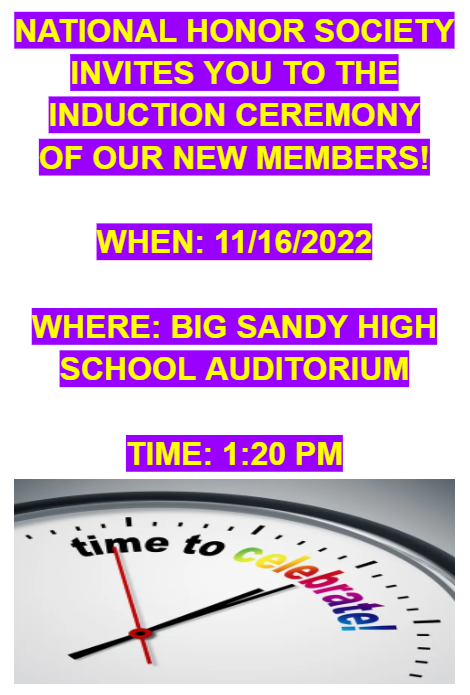 Mark your calendars! Parent/player meeting for basketball/wrestling/cheer will be held on Thursday, November 10th @ 7 pm in the HS auditorium.

Just in time for playoffs and Divisional volleyball! Get your Pioneers supporters yard sign! Available at the high school office or contact Mrs Schwarzbach for available sellers!

Northern Division Volleyball bracket

Updated 6-man football bracket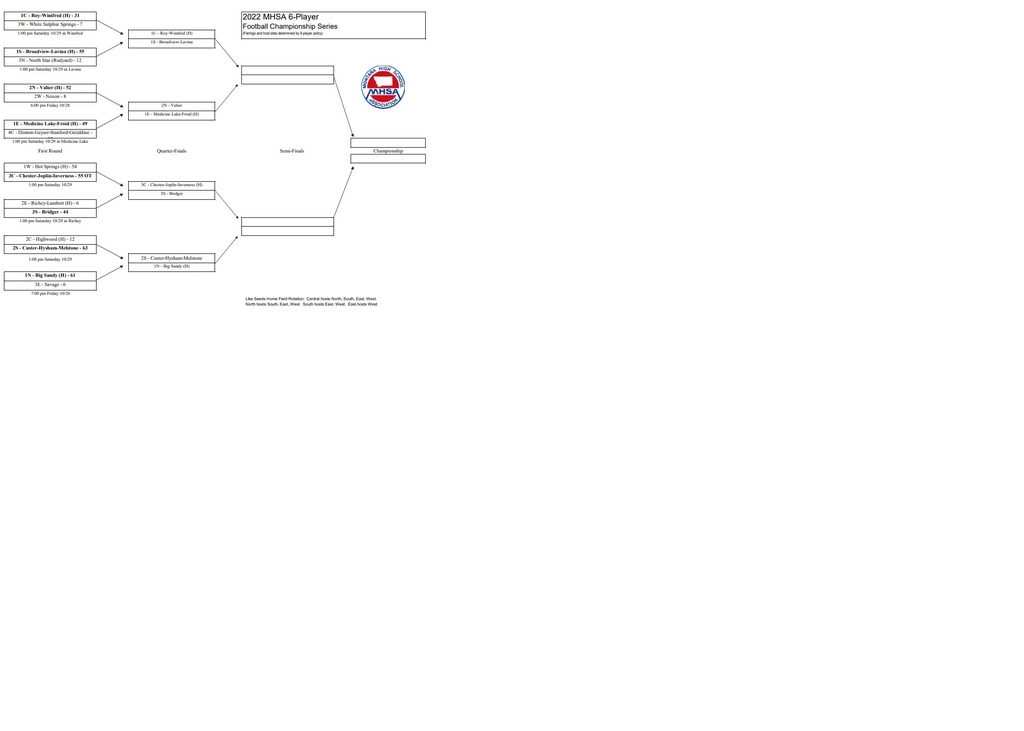 Pioneer Athletics for the week of October 31 - November 5: Thursday, November 3rd: Northern Divisional Volleyball tournament in Chinook begins. Pioneers vs. Belt at 12:00 p.m. Friday, November 4th: JHBB hosts Fort Benton Girls @ 4 p.m, Boys @ 5:30 p.m. Saturday, November 5th: JHBB @ CJI jamboree. Girls vs. North Star @ 12:0 p.m., Boys vs. North Star @ 1:30 p.m. Girls vs. CJI @ 3:00 p.m., Boys vs. CJI @ 4:30 p.m. Saturday, November 5th: 6-man Quarter-final game. Pioneers host Custer-Hysham-Melstone @ 1 p.m.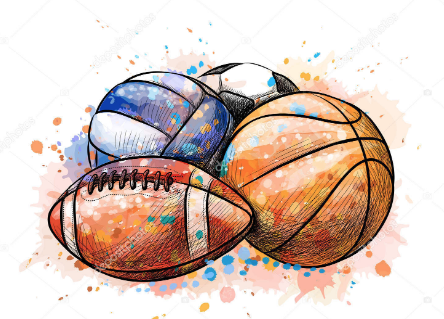 6-man football playoff bracket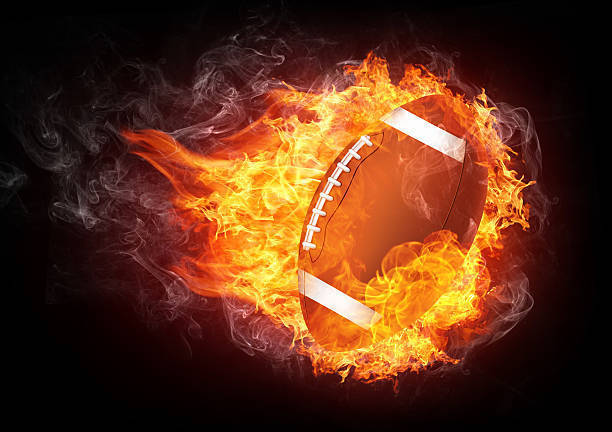 From the Student Council Advisor Ms. Jaramillo: Happy Thursday Everyone! Student council, staff, administration, and our board have been doing a great job working together to help put some amazing activities together for our students for Halloween. You all go above and beyond and it is very much appreciated! Thank you all for everything you do for our school, kiddos, and community! Here is the plan for Halloween day. If you have any questions please let me know. Elementary School 9:30-Hay rides will be available 1:00-3:30 Carnival I will have the Student Council helping run things. They will come down and grab each class when it is their turn to come participate in the carnival. Teachers please stay with your class to help keep kids in the gym. 6th graders will be helping to run the games. Thank you Mrs. Worrall and your awesome kids, I appreciate you helping! 6th Grade- Come to the gym at 12:45 to learn how to play your games There will be no afternoon rotation classes. 1:00-1:30 Kindergarten Come to Carnival 1:30-2:00 1st Grade Come to Carnival 2:00-2:30 2nd Grade Come to Carnival 2:30-3:00 3rd Grade Come to Carnival 3:00-3:30 4th and 5th come to Carnival Jr. High and High School 1st-4th period classes will remain the same in the morning 12:09-12:39 Lunch 5th-6th Period: Class advisors will have their students and be participating in different activities as a class competition. I will get all materials together and have instructions for all activities. If you are not a class Advisor please find a room to help out in. I know Mrs. Schwarzbach needs an extra adult in her room. Where do students and teachers go... 12th-Mr. Sant's Room 11th-Mr. Taylor's Room (Lane) 10th-Mrs. Rodewald's Room 9th-Mrs. Ray's Room 8th-Mrs. Schwarzbach's Room 7th-Mrs. Jenkin's (Where students eat lunch, by annex) 7th Period: There will be an announcement for all students to come down to the gym. Make sure students sit with their grade (look for signs for where to sit). This is where we will vote on class activities that students worked on as a group, do a contest for best dressed for Halloween costumes, and the Student Council will lead some fun activities. Dismissed at 3:45 Halloween Evening Activities for Jr. High/High school students at the Elementary School Come dressed up! Bring a pillow and blanket to get comfy. 5:30-6:15 Board Members will provide dinner 6:15-8:00 Movie Have a great weekend everyone, Ms. J