From the Desk of Coach Travis and Coach Thomas- Get Your Gear!! Pioneer Basketball is hosting a fundraiser until Oct 5th. For every item sold the team will get up to $9.00 per item. All orders are done online and delivered directly to the buyer. GO PIONEERS


From the theater of Dianna Keane: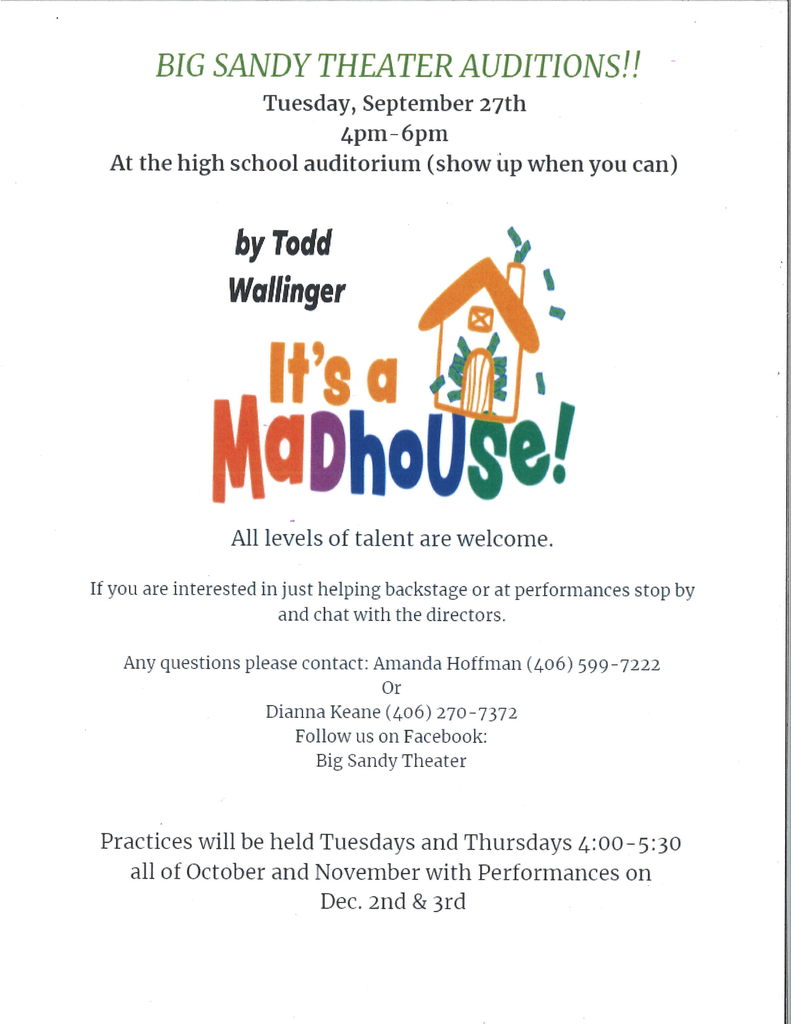 Pioneer Athletics for the week of Sept 19-24: 🏈🏈Monday, Sept. 19th: JV Football vs. PDB in Dutton @ 4 p.m.🏈🏈 🏐🏐Tuesday, Sept 20th: Volleyball hosts North Star, JH @ 5, JV & Varsity to follow🏐🏐 🏈🏈Saturday, September 24th: Football @ North Star; JH @ 10 a.m., Varsity @ 1 p.m.🏈🏈


Please read this important letter from Superintendent Schrock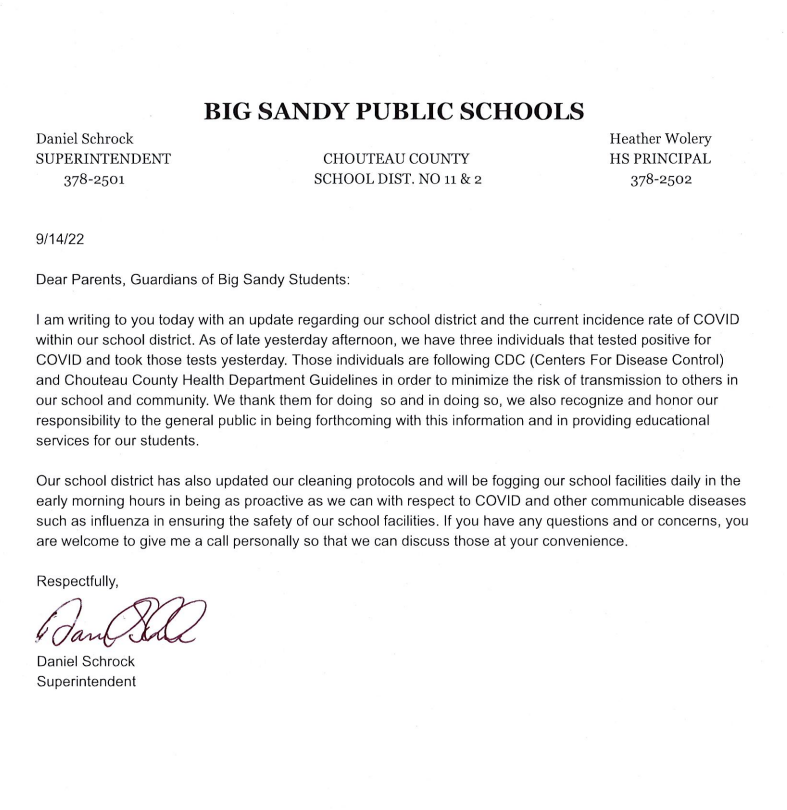 Elementary parents, watch the backpack for the "Chili Feed After School Plan". Friday, September 30, is Chili Feed and a 12:30 p.m. early out. Students riding the bus home will load at the high school with assistance from staff. Students walking home or picked up will be dismissed from the high school football field.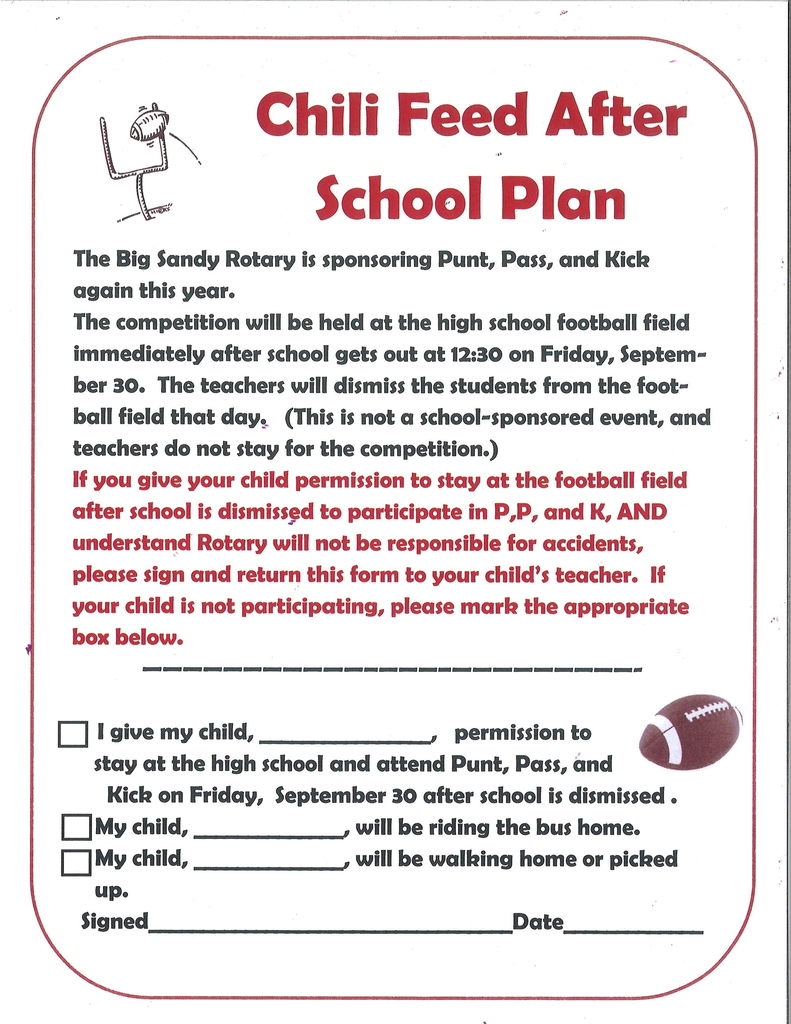 Pioneer Athletics for the week of September 6 - 10: Tuesday, Sept. 6: 🏈🏈JV Football @ North Star, 4 p.m.; 🏈🏈 🏐🏐JH/JV @ Varsity Volleyball hosts Highwood, 4 p.m. start🏐🏐 Thursday, September 8: 🏐🏐JH & Varsity volleyball hosts Box Elder, 5 p.m. start🏐🏐 Saturday, September 10: 🏈🏈JH & Varsity Football @ Sunburst. JH @ 3, Varsity @ 6.🏈🏈

Pioneer Athletics for the week of August 29-September 3: 🏐🏐Thursday, September 1: Volleyball @ Fort Benton, JH @5, JH @6, Varsity +20 🏐🏐 🏐🏐Friday & Saturday: Volleyball @ Cascade Tourney 🏐🏐 🏈🏈Friday, September 2: Football HOSTS Roy-Winifred, JH @ 4, Varsity @ 7🏈🏈

Hey Pioneer Family- Here's some information from The OPI about school lunch this year! School Nutrition lunch Free and reduced school meals will require that family income information be reported this coming school year. This requirement was waived during the last two school years. Applications for Free and Reduced School Meals will be coming home today with your student in their Back to School Papers.

Upcoming Pioneers Athletics Events: Tuesday, August 23rd: 📣Booster Club Kickoff, 6pm 📣 Thursday, August 25th: 🏐 Pioneer Volleyball hosts Chinook, JH @5, JV @6, Varsity +20 🏐 Friday, August 26th: 🏐Pioneer Volleyball at North Star in GILDFORD, JH @4, JV @6, Varsity +20 Friday, August 26th: 🏈Pioneer Football hosts White Sulphur Springs, JH @4, Varsity @7 Saturday, August 27th: 🏐Pioneer Volleyball @ Belt Pre-season tournament, first match at 10 am

Welcome Back Pioneers Family: Breakfast opens at 7:40 a.m. - 7:57 a.m. Class begins at 8:00 a.m. Dismissal time is 3:45 p.m. Please pay for meals (cost chart on our web page) in advance in parent portal or with Mrs. Strutz. The first day watch the backpack for a parent info packet. Please return the registration form in the packet for "returned" students on or before Wednesday, August 24. School is cool! (Thank you Strutzie for the welcome window and Mrs. Ostrom for your wonderful wish for us for the 22-23 school year.)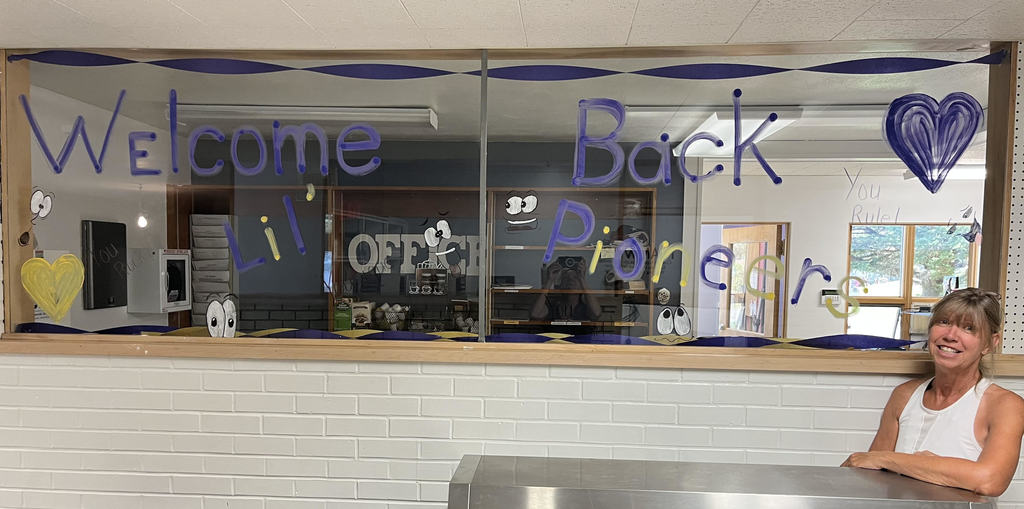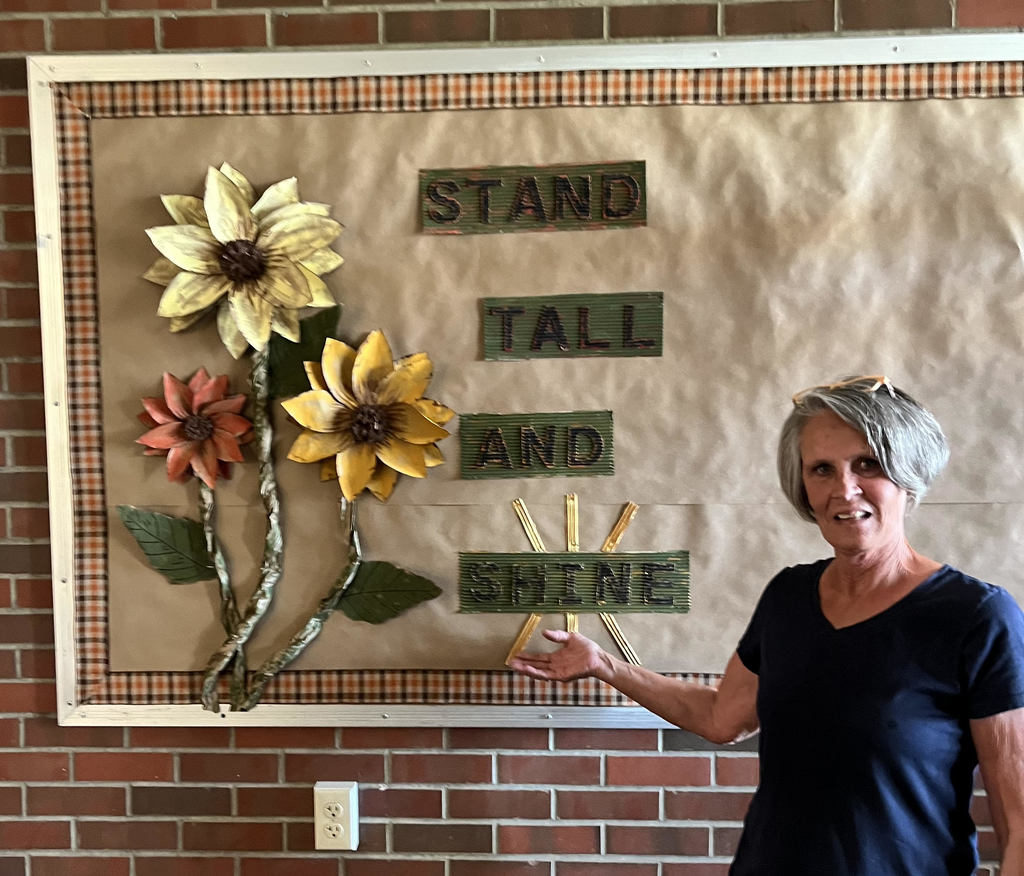 Board Agenda for the School Board Meeting on Tuesday the 16th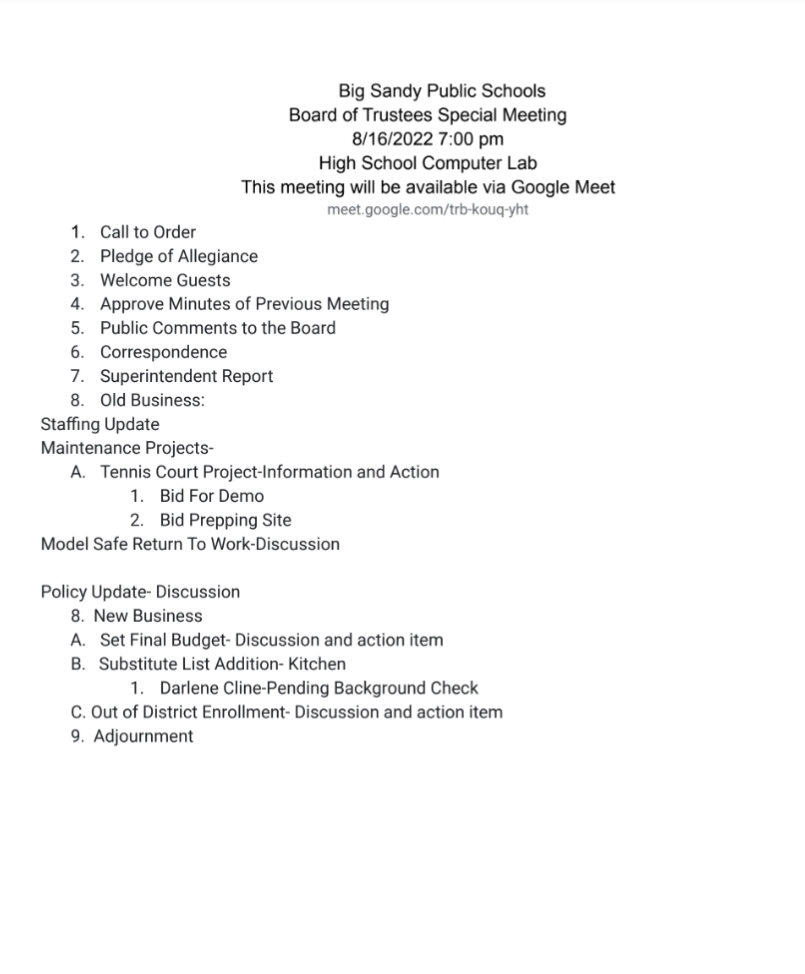 Elementary School Picture Day is Wednesday, August 24th. High School and Sports pictures will be taken on August 31st. More info will be sent home the first day of school. Smile! See you soon!

Attention: Grades 9-12 High School Students... Come pick your locker and double check your class registration on Thursday Aug 11th from 9am-2pm

Board Agenda for Special Board Meeting, 8-8-22


Mark your calendars! Parent/player meeting for falls sports is August 9th @ 7 p.m. (HS auditorium) High school practices start August 12th! JH practice start dates will be announced at the meeting. Don't forget to schedule your athlete's physical ASAP!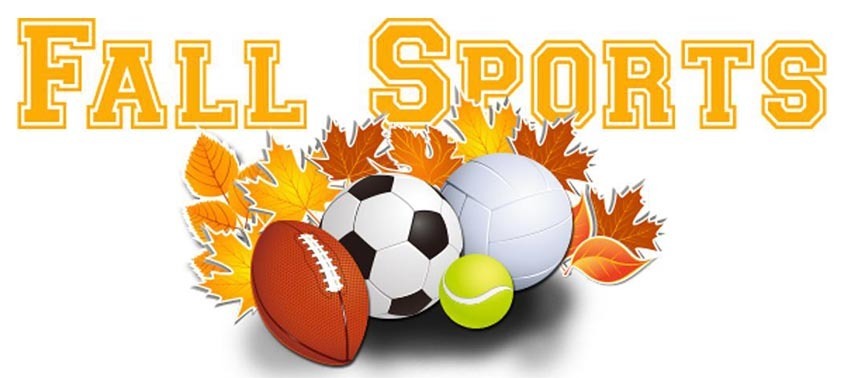 We will be interviewing Superintendents tomorrow, here is the schedule of events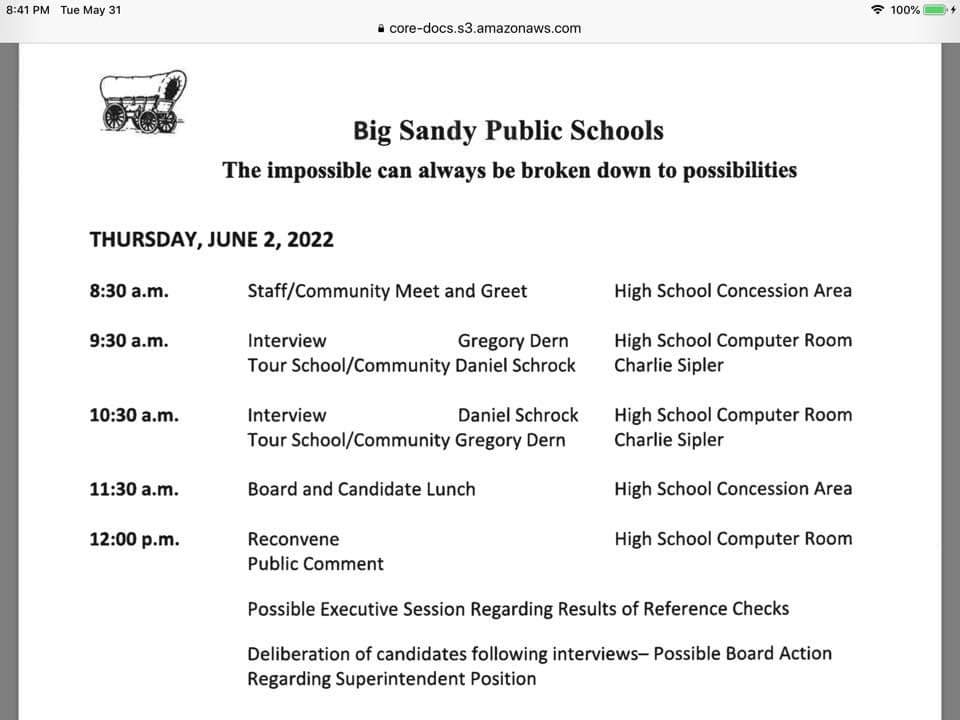 Attention All Junior High and High School Students!! There will be Open Field Baseball on Wednesdays Nights for the month of June for boys and girls. It will be from 6:30-8:30 pm. There will be instruction on baseball skills and then scrimmaging. Come join the fun!

From the desk of Mr. Bond: Attention Band and Choir students! The Memorial Day Parade has changed times, so that means new report time! Band report time is 10:30 AM and Choir is at 11:00 AM. Parade will start at 11, with a Memorial Day program starting immediately after in the auditorium.