Due to internet upgrades at the high school (no working internet tonight) , we cannot google meet the homeschool meeting tonight. All of the information presented will be uploaded onto the school web page later this evening. I apologize for the inconvenience!!!

Homeschool extracurricular participation informational meeting will be tonight at 7 p.m. in the high school auditorium. If you cannot attend in person, you can join via Google meet.
https://meet.google.com/qxq-asaw-dkq

Just a reminder! The start of fall varsity sports is only six weeks away! The first practices for Varsity Volleyball and Football is August 13th. Schedule sports physicals ASAP! Visit
https://www.dragonflymax.com/
to update or create your athlete's account today. All required forms must be completed prior to the first day of practice. Questions? Reach out to Mrs. Schwarzbach (
mschwarzbach@bigsandy.k12.mt.us
)

Exciting things are happening at the high school! The staining/varnishing of the gym floor is beginning this weekend! As a result, the gym area will be completely off limits for the next few weeks. Also, the weight room will be closed on Monday, July 5th in observance of Independence Day.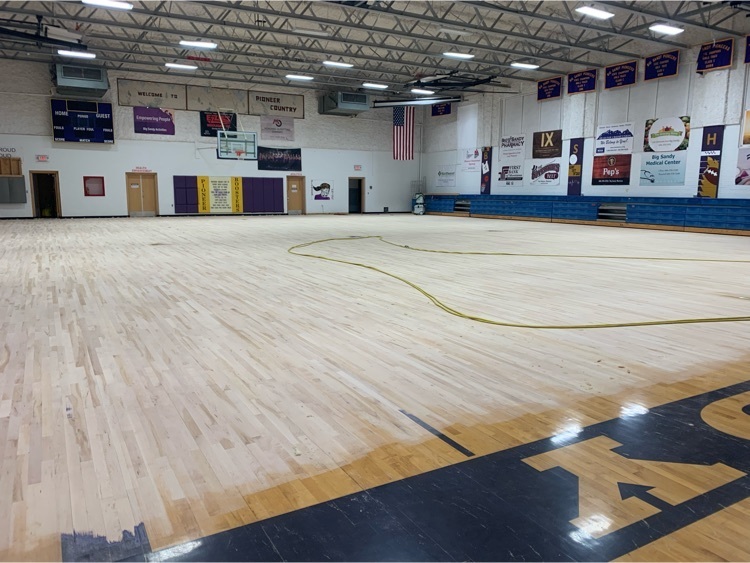 Mr. Haaland will have a review and input meeting on the required Safe Return to School and Continuity of Services Plan".  It will be in Mr. Haaland's office from 7-8pm today.  This is not a board meeting but is open for public comment.  The plan will be posted on the school website as well.  

Here's the link and agenda for the School Board Meeting tonight at 7. Board Meeting Tuesday, August 17 · 7:00 – 9:00pm Google Meet joining info Video call link:
https://meet.google.com/wog-cmdc-eov
Or dial: ‪(US) +1 208-715-5408‬ PIN: ‪206 307 705‬#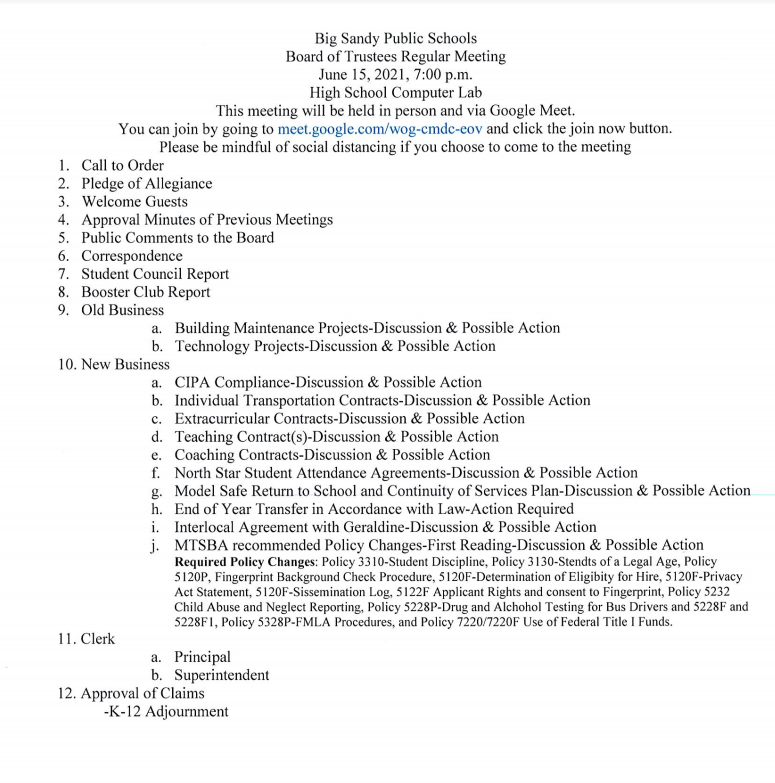 Upcoming seniors are tentatively scheduled to work Saturday, August 21st of the Chouteau County Fair. It is an all day event from 1-10 (or a little later with cleanup). Due to the small class size, essentially all students would have to be able to help for the day in order for the class to help effectively. At least 4 parents/adults would be needed to help take tickets/manage the gates (mostly in the evening during the night show, I believe). Parents-- please email me at
scline@bigsandy.k12.mt.us
, or feel free to FB message me, if you are able and willing to help for the day. If I don't have enough people scheduled to help, we will have to see if another class would be willing to help & split the pay, or pass it off to another class altogether. Please reach out to me as soon as possible (preferably by the end of the week), so I'm able to determine how we should move forward.

Big Sandy Schools is seeking to fill the following positions for the 2021-2022 School Year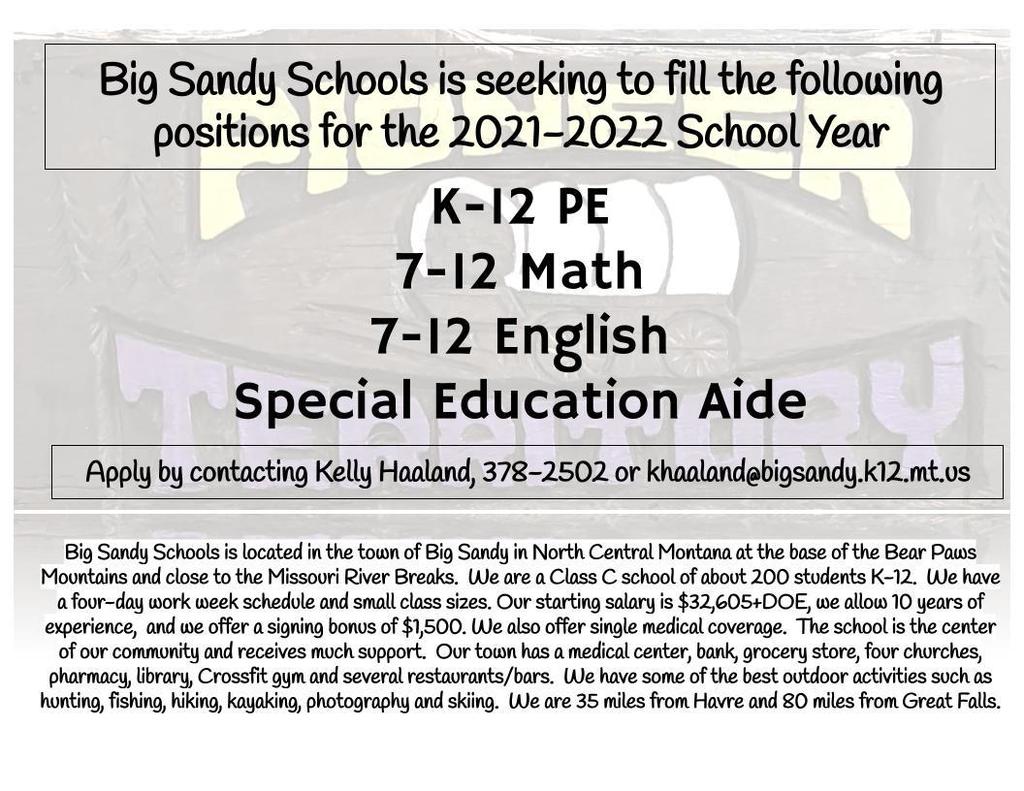 Here are a few of the safeguards we are putting in place to make sure our students, staff and community stay healthy! Temperature Checks Students and staff will be screened for fevers daily. If your child rides a bus they will be screened before entering the bus. A temperature over 100.4 will result in your child not being allowed to attend school. Students must be fever free for 24 hours before coming back to school. Attendance If your child is sick, or a family member is sick, please keep your child home from school. Communicating with the school secretary that your child is home with any symptoms that include, but not limited to, a sore throat, fever, headache, loss of taste or smell, shortness of breath, cough, or chest tightness will result in them having an excused medical absence. Face Coverings Fabric masks will be available for students and staff and washed and sanitized daily at the school. Also proper wear and care of masks will be taught. Masks are intended to be used in instances where social distancing can't be maintained, such as passing in the hallway. Water Fountains The fountain part has been covered up but the bottle refilling station remains open. You can send a water bottle to school with your child that they can fill in the water bottle filling station. If you don't have a water bottle to send the school has some available. Hands Free We are installing hands free sanitizers, soaps and paper towel dispensers throughout the school. Cafeteria Elementary students will eat on a staggered lunch schedule to provide the opportunity for distancing groups. Jr. High and High Schools students will receive lunch at the high School and be allowed to spread out in the concessions area and gym. (Safeguards are subject to change due to ever changing circumstances)

Today, July 30th, The Big Sandy School Board approved a phased reopening plan for Big Sandy Schools in accordance with the State of Montana phased plans. We are planning to open the school in Phase 2 of our plan which means a full return to school with a normal schedule and safeguards in place. This plan was approved with the understanding that our phases could change before our opening date of August 19th and also during the school year. Parents have the option of choosing off-campus online instruction for their children for this school year. If you would like to choose that option please fill out the form included below and return to the school by August 10th. (Remember that choosing the off-campus online instruction makes your child ineligible for extra-curricular activities.)
https://drive.google.com/file/d/1zFnvPv-lrL_zeWgmZEPlANRFyEZ9N746/view?usp=sharing

Link for July 30 board meeting @ 8:00 a.m. meet.google.com/tij-xkdk-rsp

Link for tonight's school board meeting: meet.google.com/uou-dpww-kjy


We Are Hiring! Check out the information below


Here's the last meal ordering form for OUT of TOWN Families. Remember that your food will be available on TUESDAY next week from 10:30-11:30. Thanks!
https://forms.gle/EsR7R1rdTf2AWGZr6